Annual eye exams with our optometrists provide an effective defense against age-related macular degeneration. AMD, age-related macular degeneration, is the most common cause of vision loss and is considered incurable. It is caused by the weakening of the central portion of the retina. When the macula works properly, it shows you detailed images at the center of your field of vision. When the cells begin to deteriorate, the images aren't received correctly. Our Chicago team is here to help patients better understand macular degeneration so that they are better prepared.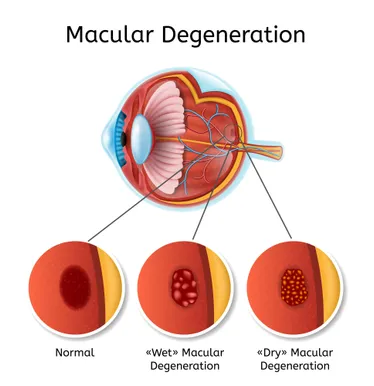 Types of Macular Degeneration
Dry Macular Degeneration
This type of macular degeneration is more common and accounts for about 80% of all cases. This type of macular degeneration occurs when the macula thins out because of age, and yellow deposits form on the eye. While small amounts of drusen won't distort your vision, they can become a problem when they become bigger and numerous.
Wet Macular Degeneration
This type of macular degeneration is less common but more severe. It occurs when new abnormal blood vessels form under the retina. These blood vessels may leak blood and other fluids that may eventually form a scar on the retina, leading to loss of central vision.
Other Risk Factors for Macular Degeneration
A family history of blindness, obesity, or heart disease, especially in anyone over the age of 50, raises the risk of developing macular degeneration. Studies also show that overweight or obese people have a higher chance of getting macular degeneration. Smoking cigarettes or being exposed to second-hand smoke can increase your chances of getting macular degeneration.
Prevention Eating a healthy diet rich in vitamins E and C and getting plenty of the nutrient lutein will help prevent macular degeneration. Sources of lutein include dark leafy greens, peas, summer squash, pumpkin, Brussels sprouts, broccoli, asparagus, lettuce, carrots, and pistachios. On top of eating nutrient-dense foods, maintaining an active lifestyle and avoiding smoking or using other tobacco products also help support continuous healthy vision.
Contact Us for Vision Care from Our Eye Doctors in Chicago
Our eye doctors, Dr. MacQueen and Dr. Mlsna, provide comprehensive eye tests and prescribe glasses or contact lenses, including specialized, hard-to-fit contacts. An essential aspect of our eye exams is that we also test for glaucoma and both forms of macular degeneration. If you are looking for quality eye care in the Chicago area, call our professional staff at (773) 586-8444 to schedule your next appointment. You can also contact us at MacQueen Eye Care Center to learn more about how we can help you and your family maintain optimal eye health.